So Whore made me a sweater. Not just any sweater, but a fabulous sweater vest in, you guessed it, blue! I love the fricking thing! I still hate her though. Check it out! (and check out the snazzy new glasses!)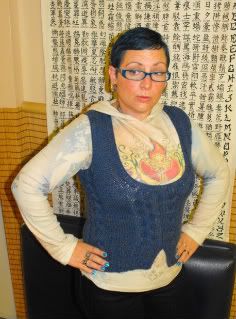 Chris is still gone...*sigh*...I feel like a single mom! I did redecorate the bedroom so it would be fabulous when he came home. I also had another stroke of genius ( I have them quite often now ) I had a blank wall in my bathroom and couldn't decide what to hang there. So after searching for Mom for an hour in her motorized cart at Walmart singing "I'm a Turbo Mother" to the tune of Judas Priest in my head, I found it!*and her* A dry erase board! It is quite cute, framed in black with a cork board around it for love notes! Now I can profess my love to the man of my dreams each morning! I know, we're sappy like that!

So Magnus turns the big one-one on Monday. He has school and such so we decided to celebrate today. We went shopping then out to ice cream. Came back and got Grandma so we could go to Walmart (as stated above). Max wanted McDonalds *gross*, but it was his day so we went. After our horrendous, fat filled, artery clogging dinner we commenced with the gifts. Chris and I finally caved and got him a Nintendo DS. Grandma got him a game and a watch. Thank God for the watch, now he doesn't have an excuse for not being home on time! Here are a few pics: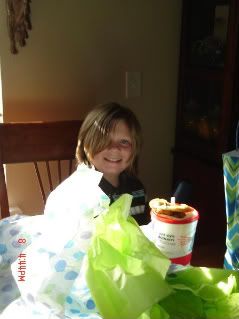 And 2 hours later...........